Daylight Therapy for Actinic Keratosis: Using the Sun to Heal
|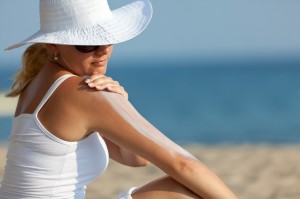 We all know that too much sun can cause a sunburn. Too much sun can also cause a skin condition known as actinic keratosis, or AK. This rather irritating skin condition typically shows up as rough, reddish scaly patches on the skin. The patches—which can be as small as a pinhead or larger than a Euro coin—occur most often on sun-exposed areas such as the face, ears, scalp, neck, forearms and hands.
In most cases, a single keratosis or "sun spot" (as it is sometimes called) only attracts serious attention when it becomes enlarged, raised, discolored, itchy or painful. In some cases, the itching leads to bleeding. Beyond any concern about skin appearance is a potentially increased risk of invasive cutaneous squamous cell carcinoma. At the present time, hundreds of millions of people in Australia, Europe and the North America are affected by this condition and seek treatment from dermatologists and primary care physicians.
The successful treatment of AK serves as an opportunity to cut short the development of such common skin cancers as basal cell carcinoma and squamous cell carcinoma. One of the best-studied treatments for this condition is photodynamic therapy, or PDT. This is now widely viewed as an effective and established treatment for both AK and non-melanoma skin cancer.
Unfortunately, PDT's effectiveness comes at a cost, at least when using those light-sensitizing agents or photosensitizers that have been approved in the United States and most European countries. Upon exposure to light these agents may help clear up AK but can also cause reddening and itchiness in the skin, both telltale signs of inflammation.
One commonsense solution would be to apply an anti-inflammatory cream to the skin during the PDT session. A study conducted by dermatologists at the University of Copenhagen's Bispebjerg Hospital in Copenhagen (Denmark) did just that. The investigators used a "super potent corticosteroid" cream before and just after PDT. This resulted in a significant reduction in skin redness 24 hours after the treatment of multiple AK patches on the face and scalp.
Moreover, the use of this topical medication (clobetasol propionate) did not in any way diminish the efficacy of PDT. The Copenhagen research team suggests that such a solution could provide a simple and easy way to make PDT treatment of large visible areas of the body more acceptable, as reported online ahead-of-print in the 24 July 2014 issue of the British Journal of Dermatology.
The Daylight PDT Breakthrough
Two years earlier, the same Copenhagen team had proposed another very practical and elegant solution in the Journal of the European Academy of Dermatology and Venereology. Their suggestion was to apply a topical photosensitizer cream at the proper dose, then go out in the daylight and let the sun do the rest. The advantage of this strategy is that it bypasses not only the discomfort experienced during intensive light treatment in the clinic, but also obviates the need for long visits to the dermatologist's office.
This novel approach, known as daylight-mediated PDT, therefore offers a very sensible and practical treatment procedure. It is nearly pain-free and more convenient for both you and your physician. The only hitch is that you should use an appropriate sunscreen if you're getting substantial sun exposure. As of this writing, several randomized controlled studies already have confirmed that daylight-mediated PDT is an effective treatment for thin AK.
Again, this treatment could be an especially good fit for individuals who have AK over large portions of the body, or at least over portions that can easily be exposed to daylight. In general, it is ill-advised to get sun exposure in the middle part of the day—unless your primary goal is to boost vitamin D production. For the purposes of successful PDT, sunlight in the morning or late afternoon is often more than sufficient to activate the photosensitizer synthesized in your body from the 5-ALA cream or ointment you previously applied to your skin.
The European Medicines Agency recently issued a marketing authorization for 5-ALA (brand name: Ameluz), and this applies to the entire European Union. This decision was based on a favorable report by the Committee for Medicinal Products for Human Use (CHMP), which recommended a marketing authorization for 5-ALA for treating mild to moderate AK on the face and scalp. (See note at the end of this article about 5-ALA, MAL, and other light-sensitizing agents that are now in the research and development phase for treating AK.)
To summarize, we now have two very simple ways to greatly increase the acceptance of PDT as a treatment for AK. The first is to use an anti-inflammatory cream before and after the light treatment. The second is to consider "daylight" PDT, whereby the patient is exposed to ambient outdoor light immediately after the application of the topical light-sensitizing cream.
Although this method is considered an off-label application, daylight PDT eliminates the need for a specialized treatment lamp and appears to result in much less discomfort compared to patients treated in the clinical setting with artificial light sources. In the third and final part of this article, we will discuss the findings from several very recent clinical trials that should solidify daylight PDT's place as the treatment of choice for AK.
Support us by buying our book, The Medicine of Light, and ebooks from our Photoimmune Discoveries eBook Series.
Sources
Wiegell SR, Petersen B, Wulf HC. Topical corticosteroid reduces inflammation without compromising efficacy of photodynamic therapy for actinic keratoses a randomised clinical trial. Br J Dermatol. 2014 Jul 24. [Epub ahead of print]
Wiegell SR, Wulf HC, Szeimies RM, Basset-Seguin N, Bissonnette R, Gerritsen MJ, Gilaberte Y, Calzavara-Pinton P, Morton CA, Sidoroff A, Braathen LR. Daylight photodynamic therapy for actinic keratosis: an international consensus: International Society for Photodynamic Therapy in Dermatology. J Eur Acad Dermatol Venereol. 2012;26(6):673-9
Tzogani K, Straube M, Hoppe U, Kiely P, O'Dea G, Enzmann H, Salmon P, Salmonson T, Pignatti F. The European Medicines Agency approval of 5-aminolaevulinic acid (Ameluz) for the treatment of actinic keratosis of mild to moderate intensity on the face and scalp: Summary of the scientific assessment of the Committee for Medicinal Products for Human Use. J Dermatolog Treat. 2014 Oct;25(5):371-4.
© Copyright 2014, Photoimmune Discoveries, BV