Malignant Mesothelioma: Photodynamic Therapy Shows Progress and Promise
|
Mesothelioma is a relatively rare form of lung cancer that has been linked with exposure to asbestos, an industrial mineral that became increasingly popular among builders in the late 19th century. Though the European Union has banned all use of asbestos, many other parts of the world have yet to follow suit.
Mesothelioma develops from mutated cells originating within the mesothelium, the protective lining that covers many of the internal organs of the body. The most common site for the development of mesothelioma is a thin space in the lung known as the pleural cavity. Most cases of mesothelioma arise from the surfaces of the pleural cavity and are referred to as malignant pleural mesothelioma (MPM).
Many developing countries are now experiencing an epidemic of asbestos-related diseases, including mesothelioma. Worldwide, nearly 80% of all deaths from MPM occur in ten countries, with Japan, the United Kingdom, and the United States being in the top three. The global incidence of this disease is expected to continue to rise over the next several decades.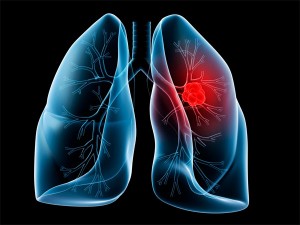 Treatment Options for Mesothelioma
Mesothelioma, and specifically MPM, has a very grim prognosis, with a median survival of six to nine months. Fewer than one in every 20 patients are expected to survive up to five years. Because MPM is considered medically "incurable", there is clearly a strong need to explore reasonable alternatives and to develop innovative treatment strategies.
The light-based method known as photodynamic therapy, or PDT, is just such a treatment option, and a very promising one as well. This approach entails the use of a photosensitizing (light-sensitizing) agent that causes the tumor's breakdown with the help of highly reactive oxygen molecules. This photochemical reaction results in very little damage to the normal tissues and moreover helps activate the anti-cancer immune defenses.
In several countries, PDT using the photosensitizer, Photofrin, has been examined as a way to improve the outcome of surgery. Clinical research suggests that this approach offers a good survival advantage for early-stage MPM, i.e., stage I or II. Though PDT is less effective for patients with stage III or IV disease, it still appears to be superior to using surgery alone.
A 2014 review of the medical evidence by researchers at the Hospital of the University of Pennsylvania, in Philadelphia (USA), concluded that "patients with multiple primary lung cancers may be definitively treated with PDT…PDT can be safely combined with [surgery] and other treatment modalities for malignant pleural mesothelioma to improve local control and prolong survival." This review was published in the December 2014 issue of Seminars in Oncology.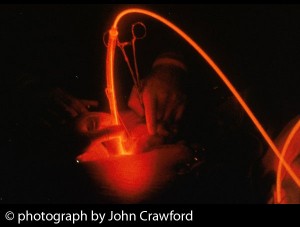 New Light on Mesothelioma Treatment
Medical scientists believe that the future success of mesothelioma treatment will depend on an improved understanding of the biology of MPM. As of February 2015, the website, Clinicaltrials.gov, listed a total of 222 clinical trials worldwide evaluating multiple therapeutic approaches in a variety of settings. Most trials have focused on novel therapeutic strategies that reflect our expanded knowledge of the role of the immune system and molecular signaling in this disease.
PDT for mesothelioma was originally investigated at the U.S. National Cancer Institute in the 1980s. Several years ago, Joseph Friedberg and his colleagues at the University of Pennsylvania reported that PDT during surgery could result in impressive treatment outcomes. Friedberg's team found that overall survival was 41 months for MPM patients with the epithelial subtype—unusually long survival, when compared to the findings from other studies of conventional treatments.
The author speculated that the reason for this prolonged survival is not clear but is potentially related to preservation of the lung or some PDT-related effect, or possibly both.  These findings were reported in the May 2012 issue of the Annals of Thoracic Surgery. Due to these encouraging findings, other clinical trials have been initiated.
A Well-Documented Success Story
Sometimes the "breakthrough insights" about a particular disease come from reports of individual patients (anecdotes). This was recently shown in the case of a 68-year-old Korean man diagnosed with MPM who had been suffering from shortness of breath (dyspnea).
His physicians had advised him to undergo chemotherapy but he had refused the treatment due to the previous failure of this treatment approach. For this reason, they then recommended he try PDT to deal with the dyspnea and MPM.
Following the PDT, the patient's breathing improved and he then decided to receive the proposed chemotherapy regimen, which included pemetrexed/cisplatin. After this, he received a single PDT treatment and later received more chemotherapy using gemcitabine (Gemzar) plus cisplatin.
The patient survived for 27 months, which is longer than median survival time in patients with advanced MPM. The authors concluded that further research and clinical trials are warranted to demonstrate any synergistic effect between PDT and chemotherapy, as reported in the January 2015 issue of Tuberculosis and Respiratory Diseases.
Support us by buying our book, The Medicine of Light, and ebooks from our Photoimmune Discoveries eBook Series.
Sources
Kotova S, Wong RM, Cameron RB. New and emerging therapeutic options for malignant pleural mesothelioma: review of early clinical trials. Cancer Manag Res. 2015 Jan 23;7:51-63.
Ryu JW, Kim YS. A case of advanced malignant pleural mesothelioma treatment with chemotherapy and photodynamic therapy. Tuberc Respir Dis (Seoul). 2015 Jan;78(1):36-40.
Wang Y, Wang X, Le Bitoux MA, Wagnieres G, Vandenbergh H, Gonzalez M, Ris HB, Perentes JY, Krueger T. Fluence plays a critical role on the subsequent distribution of chemotherapy and tumor growth delay in murine mesothelioma xenografts pre-treated by photodynamic therapy. Lasers Surg Med. 2015 Jan 12.. [Epub ahead of print]
Simone CB 2nd, Cengel KA. Photodynamic therapy for lung cancer and malignant pleural mesothelioma. Semin Oncol. 2014 Dec;41(6):820-30.
Friedberg JS, Culligan MJ, Mick R, Stevenson J, Hahn SM, Sterman D, Punekar S, Glatstein E, Cengel K. Radical pleurectomy and intraoperative photodynamic therapy for malignant pleural mesothelioma. Ann Thorac Surg. 2012;93(5):1658–1665
Maehara S, Usuda J, Ishizumi T, Ichinose S, Ohtani K, Inoue T, Imai K, Furumoto H, Kudo Y, Kajiwara N, Ohira T, Ikeda N. Combination effect of photodynamic therapy using NPe6 with pemetrexed for human malignant pleural mesothelioma cells. Int J Oncol. 2015 Feb;46(2):741-9.
Kitada M, Ohsaki Y, Matsuda Y, Hayashi S, Ishibashi K. Photodynamic diagnoses of malignant pleural diseases using the autofluorescence imaging system. Ann Thorac Cardiovasc Surg. 2014 Oct 20;20(5):378-82.
© Copyright 2015, Photoimmune Discoveries, BV