Photodiagnosis Helps Curb Bladder Cancer Recurrences
|
Bladder cancer is the ninth most common cancer globally, with more than 12 million new cases occurring each year. The cancer has an extremely high recurrence rate, making it the world's most expensive cancer to manage on a per-patient basis.  Thanks to photodynamic diagnosis (PDD), however, this situation may soon be changing.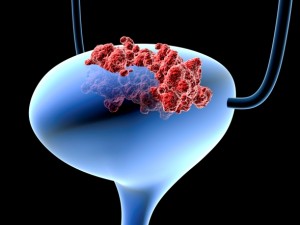 PDD enables the surgeon to more clearly see tiny spots of cancer that would otherwise be missed—spots that could later grow into full-fledged tumors.  By detecting these smaller, hard-to-see spots of cancer, surgeons can accomplish a more complete resection (surgical removal) of the malignant disease.
Researchers from the Academic Medical Center in Amsterdam recently concluded that PDD significantly improved the detection of bladder cancer when compared to the standard diagnostic approach (white-light cystoscopy), and has proven to be more effective for the diagnosis of localized bladder cancer or carcinoma in situ.
The authors further state that PDD can "facilitate more complete [surgical removal of the malignant tissue], resulting in a lower residual tumor rate, which, in turn consecutively leads to higher recurrence-free survival rates,"  as reported in the June 2013 issue of Expert Review of Anticancer Therapy.
Another recent study pooled the data from prospective studies involving a total of 1345 patients with known or suspected non-muscle-invasive bladder cancer.  This meta-analysis found that the use of photodynamic methods (hexaminolevulinate cystoscopy) significantly improved the detection of bladder tumors and resulted in a significant reduction of recurrences over a 9- to 12-month period of observation, as reported in the 8 April 2013 issue of European Urology.
The research to date strongly suggests that more widespread adoption of photodiagnosis could substantially reduce the huge financial and emotional burden posed by recurrent bladder cancer.
Support us by buying our book, The Medicine of Light, and ebooks from our Photoimmune Discoveries eBook Series.
Sources
Cordeiro ER, Anastasiadis A, Bus MT, Alivizatos G, de la Rosette JJ, de Reijke TM. Is photodynamic diagnosis ready for introduction in urological clinical practice? Expert Rev Anticancer Ther. 2013 Jun;13(6):669-80
Burger M, Grossman HB, Droller M, Schmidbauer J, Hermann G, Drăgoescu O, Ray E, Fradet Y, Karl A, Burgués JP, Witjes JA, Stenzl A, Jichlinski P, Jocham D. Photodynamic Diagnosis of Non-muscle-invasive Bladder Cancer with Hexaminolevulinate Cystoscopy: A Meta-analysis of Detection and Recurrence Based on Raw Data. Eur Urol. 2013 Apr 8.  [Epub ahead of print]
© 2013,   Photoimmune Discoveries, BV