Cholangiocarcinoma: Boosting Survival in Advanced Bile Duct Cancer
Cholangiocarcinoma, a rare cancer of the bile ducts, has an average 5-year survival rate of less than 10%. Surgery is considered to be the most effective treatment, and yet at least eight out of every ten patients are diagnosed at an advanced, inoperable stage, and most will die within six months from the time of diagnosis. At this writing, none of the mainstream treatments—including chemotherapy, radiotherapy and a surgical procedure called biliary drainage—have shown a clear survival benefit.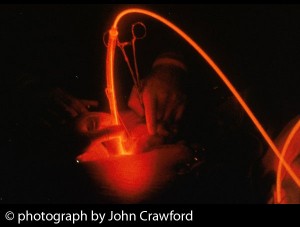 Photodynamic therapy (PDT) is a novel treatment option in these cases, and its benefits include prolonged survival with relatively few complications. With PDT, a photosensitizer such as Radachlorin® becomes selectively concentrated in the malignant tissue. Upon exposure to laser, this agent is activated, and toxic oxygen molecules then trigger the destruction of the tumor.
This specific approach, known as cholangioscopy-guided PDT, uses a narrow scope that delivers light to the diseased gall bladder tissue. The strategy enables better identification of the tumor margins—that is, revealing cancerous spots that are otherwise invisible to the naked eye—and permits a more targeted illumination with the laser. In short, more cancer gets "zapped" with PDT than can be eliminated by surgery alone.
Many studies, including two randomized clinical trials, have demonstrated that PDT is superior to biliary stenting alone in the treatment of inoperable cholangiocarcinoma—with marked improvements in both survival and quality of life. Researchers recently reported on their clinical experience with PDT in 55 patients with inoperable cholangiocarcinoma who received treatment with PDT over a six-year period. Because cholangiocarcinoma is a rare cancer, this is considered to be one of the largest studies to date.
The median survival for patients who received both PDT and chemotherapy/radiation therapy was nearly nine months, and this compares favorably to the three- to six-month median survival typically seen with chemotherapy/radiotherapy alone. Statistically speaking, there was no survival difference between the groups receiving PDT alone and those who receiving PDT along with conventional treatments. Those who received PDT were able to receive lower doses of radiation than those used in the standard radiotherapy protocols.
Despite its survival benefits, PDT was also linked with cholangitis (infection of the biliary tract) in about half of the patients.  To counter this problem, the researchers recommend that physicians utilize "aggressive stenting" after the treatment. A prospective multicenter randomized trial is now needed to assess the benefits of PDT plus chemotherapy/radiotherapy compared with PDT alone.
Support us by buying our book, The Medicine of Light, and ebooks from our Photoimmune Discoveries eBook Series.
Source
Talreja JP, Degaetani M, Ellen K, Schmitt T, Gaidhane M, Kahaleh M. Photodynamic therapy in unresectable cholangiocarcinoma: not for the uncommitted. Clin Endosc. 2013 Jul;46(4):390-4.
© Copyright 2013, Photoimmune Discoveries, BV