Hope for Herpes: The Power & Promise of PDT
|
A number of studies in the 1970s indicated that photodynamic therapy, or PDT, could be an effective strategy against herpes infections. The studies used a topical photosensitizer, followed by illumination with white light.  Despite this early promise, the treatment lost its appeal after a clinical trial failed to show any significant therapeutic benefit compared to antiviral drugs, and there was also the suggestion of some possible adverse effects. Nevertheless, more recent research suggests that PDT followed by low-level laser therapy may help eliminate recurrent herpes labialis, an infection of the mouth area caused by the herpes simplex virus.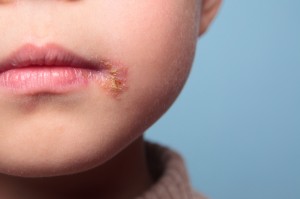 Recurrent herpes labialis is a life-long health problem that affects approximately one third of the world's population, causing frequent pain and discomfort for those afflicted.  It also may lead to a more restricted social life because of its effects on one's facial appearance. Unfortunately, the conventional approach using antiviral drugs has not been successful in completely eliminating the herpes virus, often leaving the patient vulnerable to a recurrence.
Different kinds of laser treatment (with or without PDT) have been proposed for the management of recurrent herpes labialis. Researchers at the School of Dentistry of the University of São Paulo (Brazil) reviewed the literature regarding laser therapy for recurrent herpes labialis in an attempt to identify the most successful clinical protocols.  The authors searched the medical literature with the aim of identifying the effects of laser therapy on healing time, pain relief, duration of viral shedding, viral inactivation, and interval of recurrence.
Although none of the laser treatment modalities were able to completely eliminate the virus and its recurrence, PDT was helpful in reducing viral titer in the vesicle phase.  When used in conjunction with laser phototherapy, PDT is effective, has no serious side effects, and can accelerate the healing process. The São Paulo authors point out that controlled clinical trials are severely lacking, and that such trials should be the focus of future research, as stated in their review published in the July 2014 issue of Lasers in Medical Science.
Another type of herpes infection can alter one's vision due to its tendency to stimulate new blood vessel growth within the cornea of the eye.  This problem, known as corneal neovascularization, is associated with herpes varicella-zoster  and can result in problems with one's central vision.  Researchers at the New Zealand National Eye Centre, at the University of Auckland, reported in the May 2014 issue of Clinical & Experimental Optometry that PDT may be an effective treatment for this particular herpes-related eye problem.
Finally, a recent Russian study found that a chlorin E6-based photosensitizer achieved excellent results in cell culture studies of the herpes simplex virus.  This research was published in the February 2014 Journal of Microbiology, Epidemiology, and Immunobiology (published in the Russian language, out of Moscow).  The benefits of using chlorin E6 derivatives for the photosensitizer are also discussed in our book, The Medicine of Light.
Support us by buying our book, The Medicine of Light, and ebooks from our Photoimmune Discoveries eBook Series.
Sources
de Paula Eduardo C1, Aranha AC, Simões A, Bello-Silva MS, Ramalho KM, Esteves-Oliveira M, de Freitas PM, Marotti J, Tunér J. Laser treatment of recurrent herpes labialis: a literature review. Lasers Med Sci. 2014 Jul;29(4):1517-1529. Epub 2013 Apr 13.
Goh YW1, McGhee CNj, Patel DV, Barnes R, Misra S. Treatment of herpes zoster related corneal neovascularisation and lipid keratopathy by photodynamic therapy. Clin Exp Optom. 2014 May;97(3):274-7. Journal of Microbiology, Epidemiology, and Immunobiology
Makarov OV, Khashukaeva AZ, Svitich OA, Markova ÈA, Khlynova SA, Labzhinov PA, Zverev VV. Anti-herpetic effect of photodynamic action in an in vitro experiment. [Article in Russian] Zh Mikrobiol Epidemiol Immunobiol. 2014 Jan-Feb;(1):48-55.
© Copyright 2014,  Photoimmune Discoveries, BV